I added 3 clips from Katie Joplin to the Media Archive which are really funny. Too bad that the show didn't go on because it had potential. Enjoy the clips!
Media Links:
- TV Shows > Katie Joplin
Let me tell you it's really a pain when you have to go though hundreds of pics just to make sure that there are no doubles. I just spent the last couple of hours doing that. Anyways I updated the gallery with some new pics from the 2007 events. Make sure to check it out!
Gallery Links:
- Appearances > 2007 > 03-29: 'The Reaping' Premiere
- Appearances > 2007 > 07-29: 'Stardust' Premiere
- Appearances > 2007 > 08-13: 'Superbad' Premiere
A big thanks to Hiramkent for these Roswell promos. I just love them. I also made caps. Enjoy!
Gallery Links:
- Television > Roswell > Season 1 > 'Between' Promo
- Television > Roswell > Season 1 > 'One Of Us' Promo
Media Links:
- Roswell > Promos
Right now I'm sifting through the mess that is my computer and I'm sorting out and rearranging the pics. While doing that I found some more pics of Majandra and Devon at the 'Untraceable' premiere. I added over 50 new pics and replaced 20 with HQ versions. I really hope you enjoy it!
Gallery Links:
- Appearances > 2008 > 01-22: 'Untraceable' Premiere
I tried to update the fanlisting when I realized that the forms are not really working anymore which is why I updated the site with a new layout and a new script. The new script works without any problems and you should be able to join again.
So if you tried joining a while ago and it wouldn't let you please try again

Hope you like the new layout!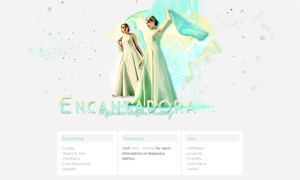 Hi everyone!
Again thanks for all the nice comments on the layout and the anniversary. I really appreciate all the support and you guys are awesome. I know I haven't updated in a while but only because I planned my trip to Prague where I got to meet Allison Mack who next to Majandra is a huge inspiration and a role model and who I just adore.
Well I uploaded some really nice pics for all of you. They are from the first Paris concert that my friend and me attended. The pics are Exclusives taken by my awesome friend Line. You can use them for icons, arts and also repost them on forums but please please please give credit. Please don't repost on another site unless Line herself has given you the OK.
Thanks and enjoy!
Gallery Links:
- Music > Concerts > Paris (September 14, 2002)
I should have waited with the layout until today because today we are celebrating our 5 Year Anniversary. Isn't that just awesome?! I can't believe that MAD – Online has been on for that long.
5 YEARS!!!!
I just wanted to say quick thanks:
Majandra – For being that amazing, talented human being that you are. I adore you and what you are doing and please don't ever stop


Bekay&Janine Thanks for helping me build this site and for making it this big. Love you!
The Fans Thanks so much for all the comments and donations. It means so much to me that you guys appreciate all the hard work I put into this site. You are wonderful!