First of all:
Merry Christmas to everyone!
Second of all:
I'm really sorry for, pretty much, neglecting this site. There is no excuse for that since I'm not working until march and I actually have enough time. I guess I was just not in the mood.
New Layouts
Anyways I worked really hard the last couple of days and made new layouts for the main site, the fanlisting and the photo archive. I really hope that you like it. I'm totally in love with the fanlisting one because I love those pics of Majandra.
Discography
I finally updated the Discography and added the lyrics for 'Tarte'. I had to type all of it since I couldn't find it on the net. So if there are any mistakes, please let me know.
Filmography
I updated the Filmography with synopsis and covers and stuff.
Gallery
Last but not least I added some new pics, scans, caps, …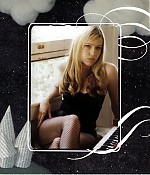 Gallery Links
'Le Prince Bleu' DVD Caps
'Tarte' Scans
'Quarterlife' – Part 13
'Quarterlife' – Part 14
'The Tony Danza Show' – 1.09
'The Tony Danza Show' – 1.10
'The Secret Life Of Girls' Stills
'Zeus and Roxanne' Stills
'The Learning Curve' Stills
'Reeseville' Deleted Scenes
'Reeseville' Behind-The-Scene
Enjoy!