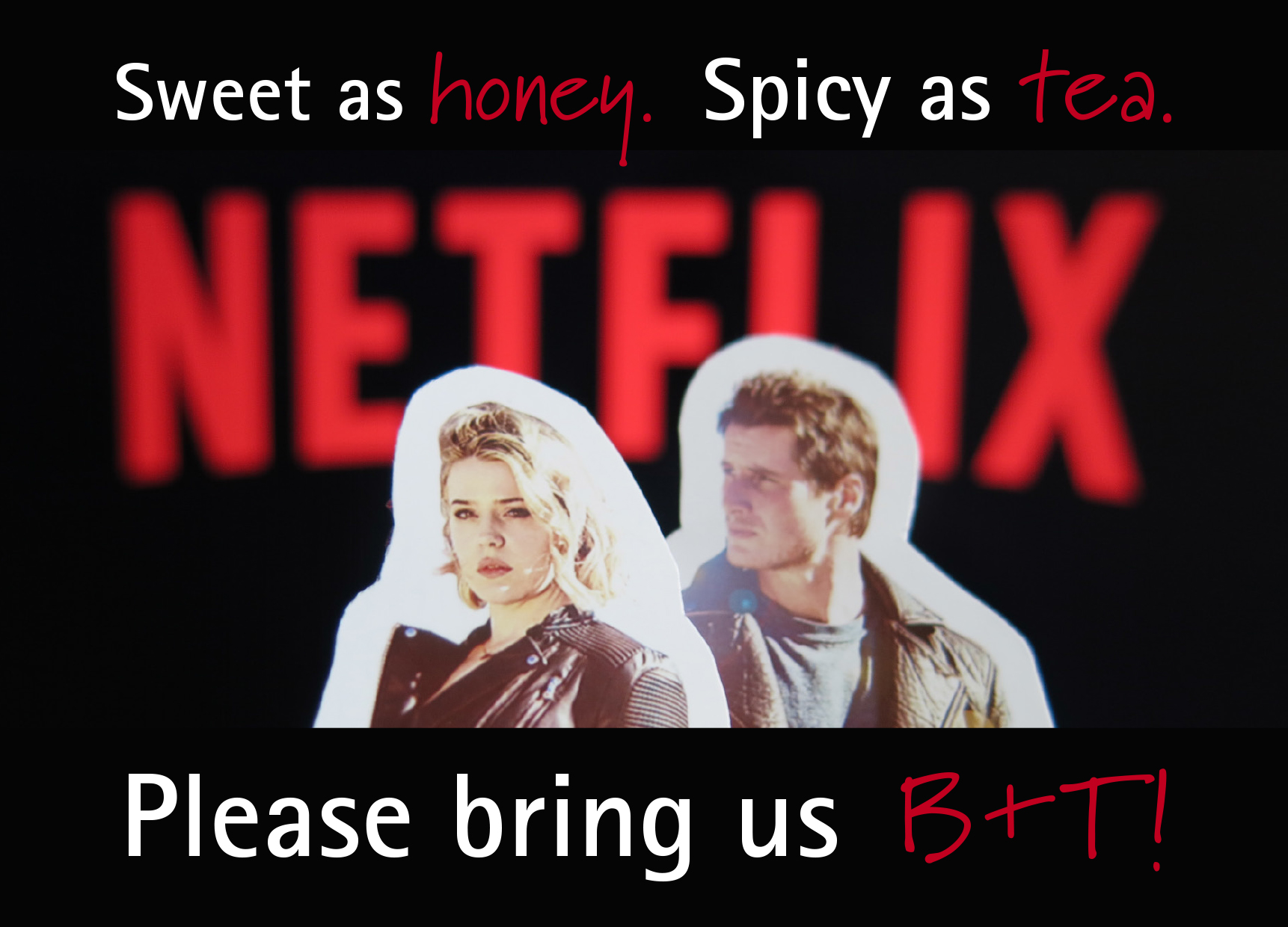 Hey fans & dans,
We are lucky to have you on board for the next phase of our plan to get BARON + TOLUCA on our TV screens! We all have done an excellent job during the weekly Twitter Missions on Saturdays.
Big thanks to everyone for staying behind this project and for spreading the word online and offline. Especially in the past month, we noticed that many new faces showed up on Twitter – and thanks to all of you who just created accounts just so you could join in and help!
That's what we call a real DAN!
THE TIME HAS COME FOR PHASE 2!
Watch & share the campaign video!

Roswellians, dans & sci-fi fans: It's time to get Netflix' attention! After busy tweeting we are taking the campaign from a virtual approach to a physical one! You say you want B+T? Well, let's show them! We loved how Majandra and Brendan used the 'bee' + 'tea' icons for Baron And Toluca on social media. Let's get started and join the " B(ee) + T(ea)" campaign!
Here's what you can do:

Send Honey* + Tea with any Baron and Toluca print out to Netflix, starting on October 1, 2016. How much should you send? Whatever amount represents just how badly you want it. We want to have a united front and flood the Netflix headquarter with B(ee) + T(ea) Between Oct 1 – Nov 30.

Let's make it count and get our message heard!

We have to be surgical and precise. This is our last shot in getting Netflix to pick up BARON + TOLUCA. Please prepare your package and start sending it out on October 1, 2016. You may send multiple packages! Any number you want! We just have to get their attention! Be sure to mail your package allowing enough time for your package to arrive at Netflix between Oct 1 – Nov 30.

Also, to achieve our goal, it is important that Netflix receives many-many first mailings in the same time period to avoid single packages, or letters trickling in that won't have an impact.
Just in case, that you can't send a package (e.g. Due to your location and shipping costs) we have also prepared some postcards that you can print, write on and send to the headquarters. In addition, you can print out the amazing fan art you created over the past weeks and show NETFLIX your dedication.
Don't forget! Show us your B+T packages and postcards you prepared and get other fans on board. Take a photo, add the hashtag #NETFLIXforBandT and share it on social media!!
Send Honey* & Tea With Any B+T print out to:
PETER FRIEDLANDER c/o: NETFLIX
335 N. Maple Dr. Suite 353
Beverly Hills, CA 90210
The United States of America
How much do you send? Whatever amount represents just how badly you want it.
Download Pre-Made Postcards
PDF: Layout 1 | Layout 2 | Layout 3 | Layout 4
Download All as PDF file
PHASE 2 – Partners:
* or favorite syrup since we've all heard of the notorious honey shortage occurring around the world now or show Netflix the connection to B+T with a photo!