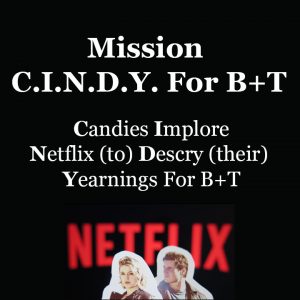 "Candies Implore Netflix (to) Descry (their) Yearnings" for B+T
We have heard of the movie, "Mission Impossible," how every type of mission was carried out with acute precision by the person who was assigned to carry it out. They always used clever tactics to successfully complete the mission. Some missions were somewhat easy; not as challenging. For other missions it was necessary to call in people to help out with successfully completing the mission. What was envisioned as impossible feats ultimately turned into a victorious accomplishment. The agents always walked away with some bruises and battle scars, but also walked away with unmeasurable gratification for a job well done.
Fans and Dans are agents working on a single Mission since June, 2016. A Mission to some that may seem impossible, while others have their eye set on the Goal – Netflix picking up B+T. They keep strategizing how to carry out the mission in a way that we will have success!
So Fans and Dans, our next mission has been presented! Our next mission is to write a letter to Cindy Holland relaying what all Fans and Dans want so badly, "For Netflix to pick up B+T. " For Netflix to hear our voices and see our tenacity. We need "agents" willing to join in and help to reach the goal. We need your help to be victorious; to send letters to Netflix. It will make a difference, YOU will make a difference.
Please send letters to Cindy Holland at this address:
Cindy Holland ℅: NETFLIX
335 N. Maple Drive
Suite 353
Beverly Hills, CA 90210
USA
(international fees for postage and handling)
Here are some helpful tips to add to your letter:
Roswell is still on NETFLIX which means fans are re-watching and being introduced to the show constantly. Having Brendan Fehr and Majandra Delfino would give the same "feels" though it's a different show.
B+T is not Roswell – it's different, exciting, mysterious, and already has thousands of fans
Date: When the promo went up on October 31 2016 there were 1,000 views within the first HOUR on Facebook!
Fans have been consistently tweeting #NETFLIXforBandT since the summer of 2016
Fans have sent in Honey and Tea
If you are super busy, a postcard will help too. Choose a pre-made card and print it or send it via mypostcard.com (Tutorial). That's a short, simple and fast way to make your voice heard as well.
fans could add 1 Tea bag to the letter
Or a small 'Netflix Or Bust' sign (pre-made card)
Should you choose to accept the mission feel free to post your letter on social media as well to inspire other fans. Need inspiration? Look at Marey's letter: B+T Campaign: A Heartfelt Letter To Netflix she wrote one to Peter Friedlander and now will do so to Cindy.
MISSION ACCEPTED?
LET'S DO THIS!