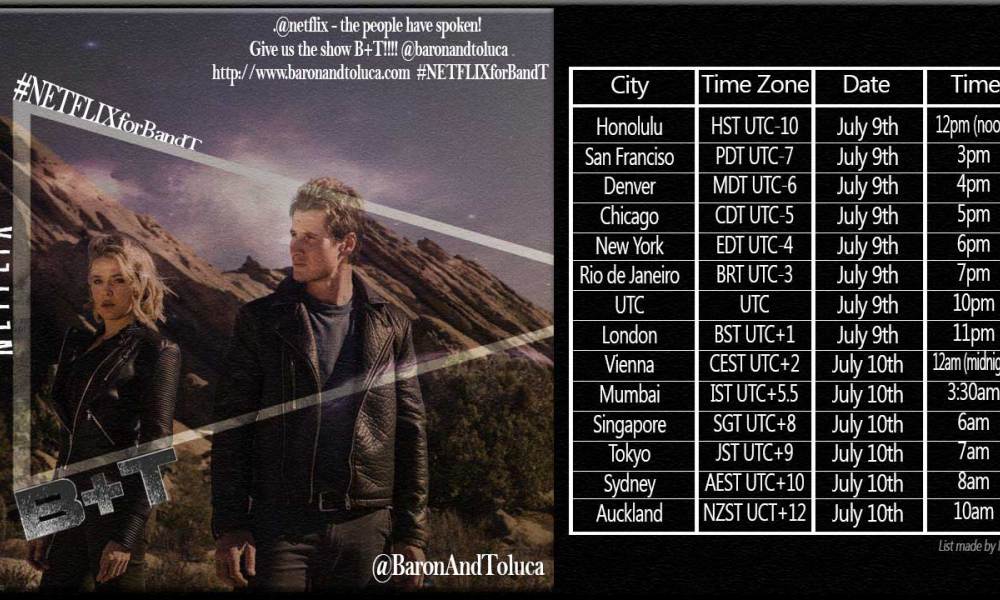 On June, 2016, Majandra Delfino, @MajandraD, sent out some puzzling Tweets creating quite a stir among fans.  Random pictures, captioned only with "B + T," caused fans all over the world to ask the question, "What is B+T?" Among the fans being teased were some determined Roswell fans, who wondered what it all could mean especially when Brendan Fehr, @unrealfehr, responded to Majandra's Tweets with Tweets of his own that only increased the curiosity and adding more excitement to the Roswell fan base and beyond!
When Majandra & Brendan solved the puzzle for us on, June 25, 2016, bringing the puzzle pieces together, it revealed a picture of the two of them standing in front of Vasquez Rock. The revelation created a frenzy of excitement from their fans throughout the social media.
Majandra and Brendan shared with their fans an idea they had brewing for a new show starring themselves, calling it, "Baron and Toluca" and revealed their website: www.baronandtoluca.com.
Fans, friends, and Roswell fans, loved the idea of a brand new show starring Majandra and Brendan. The fans decided to rally their support for the project by asking Netflix to pick up the show for them. The #Roswellback Team (@RoswellBack) and Crashdown.com, (@crashdowncom) came together and combined strategies to see how they could campaign for "Baron and Toluca" using the social media as a platform to reach Netflix.
Articles, banners, and videos are being used to hype up the fans as well as designing tutorials on the functionalities of twitter with the objective to optimize tweets so as to get more of Netflix's attention.  The Campaign for Baron and Toluca starring Brendan and Majandra, has already started on a high note!  Through dedicated campaigning the fans are banding together to impress Netflix with 'tweet numbers', showing just how much they crave more shows featuring the chemistry that only this Roswell Candy duo can portray.
#Roswellback and Crashdown.com are asking fans to please join in on their Twitter Campaigns every Saturday at 6 PM EST time. The goals of the campaigns are to help make the Hashtag #NETFLIXforBandT go viral, and trend so that it gets the attention of not only Netflix, but people world-wide.  Thus, encouraging all Majandra and Brendan fans to join in on seeing this endeavor happen!
To accomplish this the campaign asks that everyone globally tweet at the same time. Doing so is important to increase Twitter "trendability" when you tweet this:
@netflix – the people have spoken! Give us the show B+T!!!! @baronandtoluca www.baronandtoluca.com #NETFLIXforBandT
Please look at the time chart above to see when you can join in on Saturday Campaigns to tweet by referring to your location.
We encourage fans to not spam by having authentic conversations on twitter using the hashtag #NETFLIXforBandT every time and to retweet tweets with the hashtag as well. So join in, every Saturday and get hyped to help make a great "FANdemonium" dream come true while meeting and connecting with fans around the world!
Fan Twitter accounts: @RoswellBack @crashdowncom @brendanfehrnet @madonline2004 @TNS_fans 
Website: http://www.baronandtoluca.com/
Facebook: https://www.facebook.com/NETFLIXforBandT/
Twitter: https://twitter.com/BaronAndToluca
(This was written by Debby & Nomi – @RoswellBack)